Rappahannock County Natural Resource Map Series
Map Number 2: Streamside Vegetation
This Streamside Vegetation map shows a sample of the 2,000 streams and ponds in Rappahannock County, Virginia, in the context of the vegetation that surrounds the streams. A digital map of water is superimposed on an aerial photograph. Blue lines represent streams.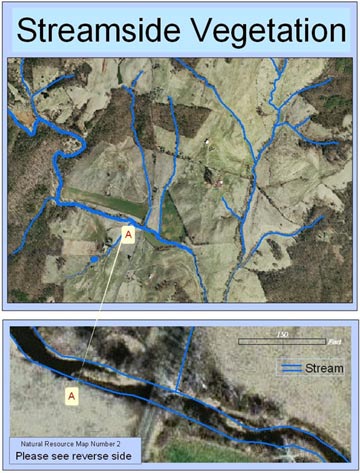 Click on map to see higher resolution image
The vegetation growing alongside a stream or pond is a riparian buffer zone. Dense vegetation in buffer zones protects the stream banks from erosion; traps sediment and pollutants before they enter streams; moderates flooding; recharges groundwater; regulates water temperatures; maintains healthy environment for aquatic life; provides terrestrial wildlife habitat. Can you identify some of the following on the map?
Streams protected on both sides by forest vegetation
Streams protected on one side by woodlands and not on the other side
Streams that are not protected by woodlands
Notice, for example, the lack of trees at the point marked A, which is enlarged in the map at the bottom. The stream bank is severely eroded at that point.
This map was constructed using Geographic Information System (GIS) software and digital orthographic data from the Virginia Base Mapping System. The resolution on this data is 1:400, which enables us to observe in good detail the vegetation along a stream. The aerial photograph was made in the early spring of 2002, before deciduous trees were in leaf.
The Rappahannock County Natural Resource Map Series is designed to assist citizens and leaders in Rappahannock County, Virginia, in understanding and making decisions about uses and protection of natural resources in this scenic, rural area. Each map in the series addresses a separate theme, such as streams, watersheds, riparian buffers, water quality, topography, land cover and land use, land conservation, historic districts, rustic roads, and others. This map series is produced by the Piedmont Research Institute as a public service, with support from several organizations including the Rappahannock County Government, Rappahannock League for Environmental Protection, Piedmont Environmental Council, Rappahannock Friends and Lovers of Our Watershed (RappFLOW), the Rappahannock County Conservation Alliance, National Fish and Wildlife Foundation, and others. You can obtain maps in this series by attending RappFLOW events or joining RLEP. Contact: bev@piedmontresearch.org
Map Number 1: Major Streams
(See RappFLOW Reports & Publications: Air and Water Quality in the Shenandoah National Park)
Map Number 2: Streamside Vegetation
(See Ways to Protect Our Watershed: Streamside Vegetation)
Map Number 3: Thornton Upper Watershed
(See Ways to Protect Our Watershed: Stop Erosion Now!)
Map Number 4: Forests and Streams
(See Ways to Protect our Watershed: Sustainable Forestry)