RappFLOW Reports and Publications
Air and Water Quality in the Shenandoah National Park - How It Affects Rappahannock County and Why We Care

A Workshop Held April 12, 2003
In September 2002, a report by the National Parks Conservation Association named the five most polluted national parks in the United States.
Based on haze, ozone and acid precipitation, first place went to the Great Smokey Mountains National Park. It was said at times to have "ozone pollution (that) exceeds that of Atlanta, Ga., and even rivals Los Angeles, Ca."
Second place as the most polluted park was "awarded" to the Shenandoah National Park.
The atmosphere in which Rappahannock County residents live and breathe involves wind-directed air that is either passing through the park, or is on its way to the park. Aall water in the county's streams and rivers flows down from the park. Since the park monitors its air and water quality, we get the benefit of its knowledge free.
A RappFLOW forum was held on April 12, 2003, on this subject.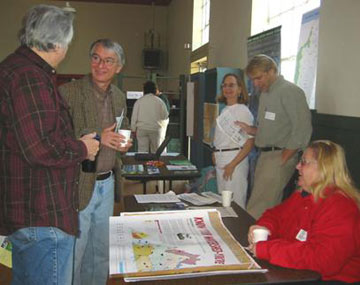 Participants in the April 2003 RappFLOW public forum learn from each other and exhibits. Gwen Hays (seated) is displaying materials for the Rappahannock League for Environmental Protection.
Introduction :: Agenda :: Articles :: Photos :: Map