RappFLOW Reports and Publications
Air and Water Quality in the Shenandoah National Park - How It Affects Rappahannock County and Why We Care

A Workshop Held April 12, 2003


Panelists at the April 2003 Public Forum explain what the Thornton River means to them. Left to right: Rappahannock High School environmental science teacher Beth Gall; Rachael Bynum, farmer at Waterpenny Farm; Paul Kearney, Thornton River Fly Shop; Pete Estes, Chairman of the Rappahannock County Board of Supervisors.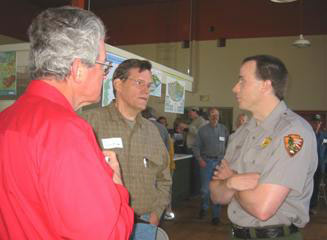 Shane Spitzer (right), scientist at the Shenandoah National Park, talks with Rappahannock farmers Clyde Humphrey (left) and Cliff Miller (middle) at the April 2003 RappFLOW Public Forum on Air and Water Quality in the Shenandoah National Park.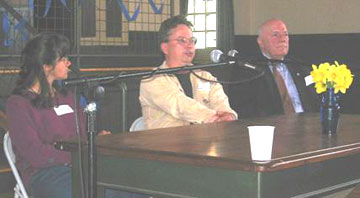 Fisherman Paul Kearney explains why clean streams are good business.
Introduction :: Agenda :: Articles :: Photos :: Map