Ways to Protect Our Watershed
Sustainable Forestry:
Our Forest Treasures of Rappahannock County Protect Our Watershed: How We Sustain, Enjoy, and Benefit

A Workshop Held April 24, 2004, at Mt. Vernon Farm
Planning the forum ...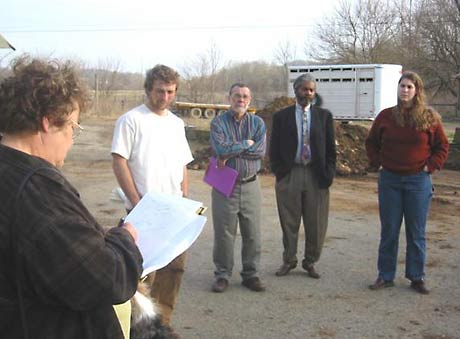 A week before the event, RappFLOW Coordinator Bev Hunter (left) discusses logistics of the forestry forum activities with horse logger Chad Vogel, photographer Dick Biby, Khalil Hassan and Carey Whitehead.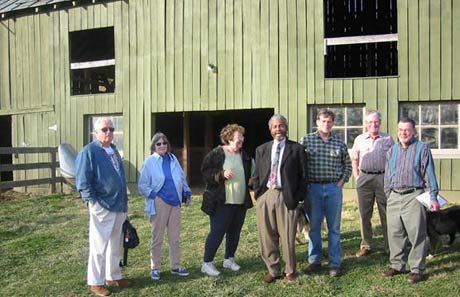 RappFLOW organizers getting ready for the sustainable forestry event in the big green barn at Mt. Vernon Farm. Left to right: Jed Duval, Jill Duval, Bev Hunter, Khalil Hassan, Cliff Miller, Clyde Humphrey, Dick Biby.
At the event ...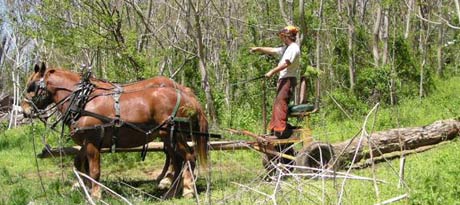 Local horse logger joins RappFLOW forum on sustainable forestry.
(Photo by Dick Biby)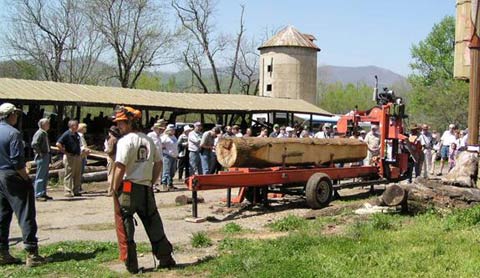 Chris Byrd demonstrates his portable sawmill at the RappFLOW forum on
sustainable forestry. (Photo by Dick Biby)