Protecting Our Streams
By: Beverly Hunter
03/07/2007
©Rappahannock News 2007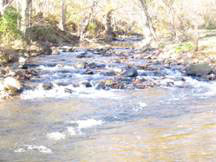 Rappahannock citizens have surprising and unprecedented opportunities right now to help clean up and protect our streams from future contamination, thanks to several initiatives by volunteers and local and state agencies. It looks like 2007 will be a watershed year, if many citizens take advantage of these opportunities which include the following:
Funds we can get to help landowners clean up our "impaired" streams -- from the Virginia Departments of Conservation and Recreation and Environmental Quality;
Rappahannock County's Clean Stream Initiatives, including four programs funded by the state Water Quality Improvement Fund;
RappFLOW and its partners' Stream Buffer restoration project, funded in part by the National Fish & Wildlife Foundation;
Volunteer stream monitoring program, funded in part by the VA Department of Environmental Quality.
CREP, the Conservation Resource Enhancement Program, which will offer for the last year a generous cost-sharing program to farmers to protect their streams.
Funds for Cleaning Up Impaired Streams: The TMDL Program
On March 22 at 7 p.m. at the county library, results will be presented from the study called "Total Maximum Daily Load (TMDL)" concerning our impaired streams. These "impaired" streams include segments of the Rush, Hughes, Hazel, and Rappahannock Rivers. "Impaired" is an official designation based on exceedance of bacterial standards over five years of monitoring by DEQ. Funds will be available only to those localities where the landowners and local government agree that they want to implement practices that will clean up the streams. So it's important to get informed and participate in this process.
Rappahannock County Clean Streams Initiative
This month, every resident of Rappahannock County received a letter from John McCarthy, County Administrator, describing the Rappahannock County Clean Streams Initiative, funded in part by the Commonwealth's Water Quality Improvement Fund. Through this initiative, the County will:
develop a storm water ordinance that will provide better protection from any future land development projects;
enhance its erosion and sediment control programs;
promote septic system maintenance and offer cost-share for septic system pumping and repairs to selected areas;
sponsor public seminars and workshops on many aspects of water quality protection.
Partners in this initiative include the Culpeper Soil and Water Conservation District and RappFLOW, our local volunteer-based watershed protection group. There are many ways in which individual residents and landowners can participate in this initiative. For example, they can learn about the draft storm water ordinance before it comes up for public hearing, so they will be well informed to assist in the political process. Local volunteers are working with government officials and a professional contractor, Timmons, to craft an ordinance uniquely suited to our rural watersheds.
RappFLOW's Stream Buffer Restoration Program
RappFLOW, our local volunteer-based watershed protection group, is creating a new kind of program to assist residential and commercial landowners to protect their streams by protecting and restoring the vegetation along the streams. While the state and federal governments have long provided cost-sharing for agricultural landowners, there has not been a program to help non-agricultural landowners reduce the nutrients, sediments, and other pollutants entering the streams. This pilot program, led by Tim Bondelid of Woodville, depends primarily on volunteers who will work with a landowner to accomplish such tasks as assessing the site, removing invasive species, planting trees, shrubs and native grasses.
Volunteer Stream Monitoring
State agencies do not have the funding needed to monitor water quality in our many streams, In fact, the Virginia Department of Environmental Quality monitors only about five locations in our entire County. This year, under the leadership of Christina Loock, a renewed volunteer stream monitoring program is underway. RappFLOW received a small grant from the Virginia Department of Environmental Quality to purchase equipment and supplies to support this effort, and the Culpeper Soil & Water Conservation District provides training for the volunteers.
CREP Cost-sharing: The Last Opportunity Year
Several farmers in Rappahannock County have benefited over the past several years by taking advantage of a generous program funded by the federal government to reduce pollution in our streams by providing alternative water sources for cattle, and planting trees along the streams. This program is available for the last time in 2007, so now is the last opportunity to take advantage of it.
For More Information
The Rappahannock-Rapidan Regional Consortium web site provides information on the TMDL study. See http://www.rrregion.org/tmdl_dev.html
The RappFLOW web site provides news, updates, and research on public events and the riparian buffers program. See http://www.rappflow.org
The Culpeper Soil & Water Conservation District provides information on agricultural cost-sharing programs. See http://culpeper.vaswcd.org/