S.T.E.A.M PROJECT AT BELLE MEADE SCHOOL
Carolyn Thornton of RappFLOW provided technical assistance and instruction for students at Belle Meade. This year, they are integrating a S.T.E.A.M (science, technology, engineering, art/design, and math) component into the curriculum at Belle Meade School.
Throughout each semester, the middle and high school students will be working on experiential group projects that focus on hands-on, real-world situations and questions. For example, students are currently working on a "Kilby Run Stream Quality Assessment" project that spans across all subjects: science, math, humanities, language arts, and art. They will be collecting and assessing data from Kilby Run stream (which passes by rt. 231 through Belle Meade Farm) and analyzing the impact that the farm has on stream quality.
The data collection will include: invertebrate samples, water flow/velocity and volume, discharge, stream side vegetation, oxygen and pH content, clarity, and temperature to name a few. Aside from the typical data collection and analysis, the students will publish their results and present their findings publicly. This will include a formal scientific paper, regular press releases, and a group presentation which utilizes audio, visual, and tactile elements shown both locally and regionally).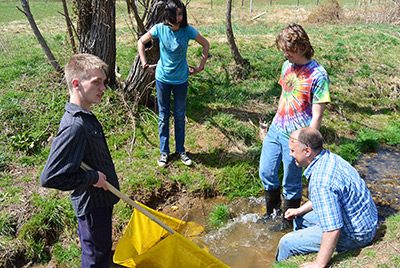 More photos courtesy of Anna Maher, student at Belle Meade, below
The primary objective of this project is for students to learn how to work together on a meaningful task that relates and contributes to their community as well as the world around them. This is one of our missions and part of our educational philosophy at Belle Meade School.

Alexandra Campbell-Forte
Belle Meade School; Blue Ridge Running Club