Hazel River "Exceptional State Water"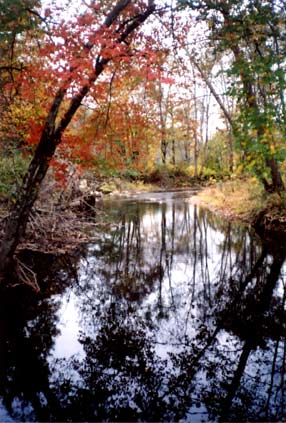 Good News! The Hazel River in Rappahannock and Culpeper Counties has been nominated for designation as an "Exceptional State Water," also known as Tier III classification. The nomination of the Hazel presents a rare opportunity to honor and protect an outstanding, scenic river that runs free and clean through an unspoiled part of two beautiful Virginia counties, from the Blue Ridge to the Piedmont. Citizens who own property or live in the county have a special role to play in the decision-making process that potentially leads to ensuring that the Hazel remains a special, undiminished resource of exceptional quality, serenity, and beauty.

The Hazel River in Autumn by Sally Mello
The purpose of Tier III status is to MAINTAIN THE CURRENT QUALITY of pristine waterways and to protect them as a resource for the future. When a river is awarded Tier III status, THIS MEANS:
There can be no new or increased discharge of sewage or industrial wastes into the waterway.
Where discharges currently exist from sewage treatment plants and industries, they will be allowed to remain, but not increased.
At the same time, Tier III status:
Does

NOT

require landowners along the river to grant public access to the water.
Does

NOT

require the implementation of best management practices for farmers utilizing land along the river for agriculture (beyond what is already required by state law).
Does

NOT

affect the amount of water withdrawn for agricultural purposes.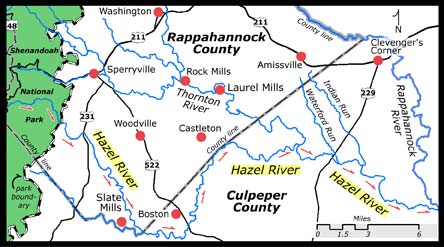 Prepared by the Piedmont Research Institute for the Hazel River Task Force,
October 23, 2005.
CITIZEN SUPPORT NEEDED
For the Hazel River, there will be public participation at the State and local level through a petition period, with the opportunity for public comment. Landowners having property directly along the Hazel River may share their opinions about this designation with the Virginia Department of Environmental Quality (DEQ) until December 19th. All other citizens (note: residency in Rappahannock or Culpeper Counties is not a requirement in order to comment) may submit comments to DEQ starting November 28th until December 19th.
The Hazel River Task Force was formed to help citizens learn about the Tier III nomination of the Hazel River. The Task Force would like you to CONTACT YOUR LOCAL SUPERVISOR and tell him you support the Tier III designation for the Hazel. It is VITAL that you do this now IN ORDER TO SHAPE THE PUBLIC POSITION YOUR SUPERVISOR WILL TAKE ON THE ISSUE. Please refer to the list below to find contact information for your supervisor.
Rappahannock County Supervisors' Contact Information by District:
Piedmont
Charles Estes (Chair)
PO Box 299
Sperryville VA
22740
(540) 987-8951
Hampton
S. Bryant Lee
13153 Lee Hwy
Washington VA
22747
(540) 675-3178
Stonewall-Hawthorne
Robert Anderson (Vice-Chair)
332 Rock Mills Rd.
Woodville VA
22749
(540) 987-8206
Wakefield
Roger Welch


PO Box 420


Flint Hill VA
22627


(540) 675-3686

Jackson
Ronald Frazier
446 Viewtown Rd.
Amissville VA
20106
(540) 937-5983
If you own land along the Hazel River, please send your comments to DEQ NOW (all other citizens are asked to hold their comments until November 28th—DEQ will NOT consider comments received in advance of the designated time frame). Comments can be mailed, emailed, or faxed to:
Mr. David C. Whitehurst
Department of Environmental Quality
P.O. Box 10009
Richmond, Virginia 23240
e-mail: dcwhitehur@deq.virgnia.gov
fax number: 804-698-4522